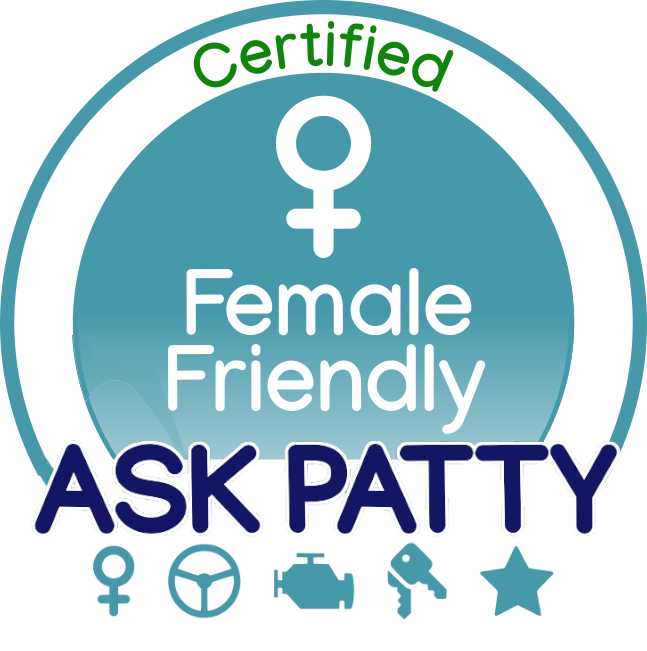 Be a part of the Industry-Wide Movement
The AskPatty.com Certified Female Friendly® program was designed to train and certify car dealers, tire dealers, quick lubes, and service centers on how to attract, sell, retain, and increase loyalty with women customers. The program includes comprehensive online Video training in sales and marketing to women, a marketing portal full of fresh ideas, promotional guides, press release template, step by step car care event guide, social media materials, pre-designed art assets, and much more.
Increase your market share with women customers
Our flagship product since 2006, the Certified Female Friendly program provides you with the training, tools, and marketing expertise you'll need to win with women all year long. Our clients leverage becoming Certified Female Friendly® as a strategic advantage, differentiation to reach more women utilizing our effective brand placement, marketing and advertising strategies. How can getting AskPatty.com Certified Female Friendly help you?
Our clients report the following top 10 ROI results:
Increase in employee customer service skills, improved workplace culture and improved CSI, Customer Service Index, scores.
Increased company name and location brand awareness, local market visibility and local media
exposure due to joint marketing and PR efforts aimed at women.
Increased social media reach and visibility on Facebook, Twitter, Instagram, YouTube and other social sites.
Increase in website traffic of up to 30%.
25% increase in positive 3rd party online reviews from women.
Increase in qualified candidates who apply for employment via employment call to action, both men and women, in sales, marketing, management, technician, service writer and other roles.
Increase of up to 37% of women contacting location for sales and service.
Improvement in curb appeal, look and feel of location and waiting room experience.
Increased in knowledge of appropriate assets to use, tools and ability to market and advertise to
women effectively.
Strategic competitive advantage and differentiation with competitors, growth of market share.
Complete a contact form and schedule a live demo with our staff. We'll cover the program with you in detail, educate you as to how you could benefit, and answer any questions you may have. Watch our video overview
Course Only
At the most basic level, we provide the Certified Female Friendly training and certification in our LMS system.
Basic Annual
The Certified Female Friendly training, plus access to our Marketing Portal, updated monthly with fresh assets and ideas.
Annual + UpShift
Certified Female Friendly Training, access to our Marketing Portal, and access to pre-recorded and self-guided UpShift courses.
Custom Programs
Need a customized program to meet your needs and budget? We can tailor-fit our program to work for any company. Let's talk!