Presented by Joni Stuker, author and Ted Talk Presenter with 32 years proven automotive consulting experience. See Joni's bio here.
Upcoming Lunch & Learn Sessions
Welcome to Lunch & Learn, the free Ask Patty monthly webinar series dedicated to courageous conversations among professionals in the automotive industry. Beginning in September 2022, enjoy a new webinar every month featuring real ideas, hard questions, and in-depth discussions, enjoyable during your lunch break.
Rescheduled: Effectively working with Today's Product and Pricing Obstacles
Of the four P's of marketing – product, price, place, and promotion – price is undoubtedly the most difficult for most people. This is compounded by the fact that, as we all know, prices everywhere continue to steadily increase, on all products from food and clothing to gadgets and toys. This webinar will help you to address the anxiety of making a pricing mistake, mitigate the struggles of product availability, and adapt to the constantly changing economic environment of the 21st century.
Registration Link: https://askpt.link/d71
Monday, October 9
1pm Eastern / 10am Pacific
45 Mins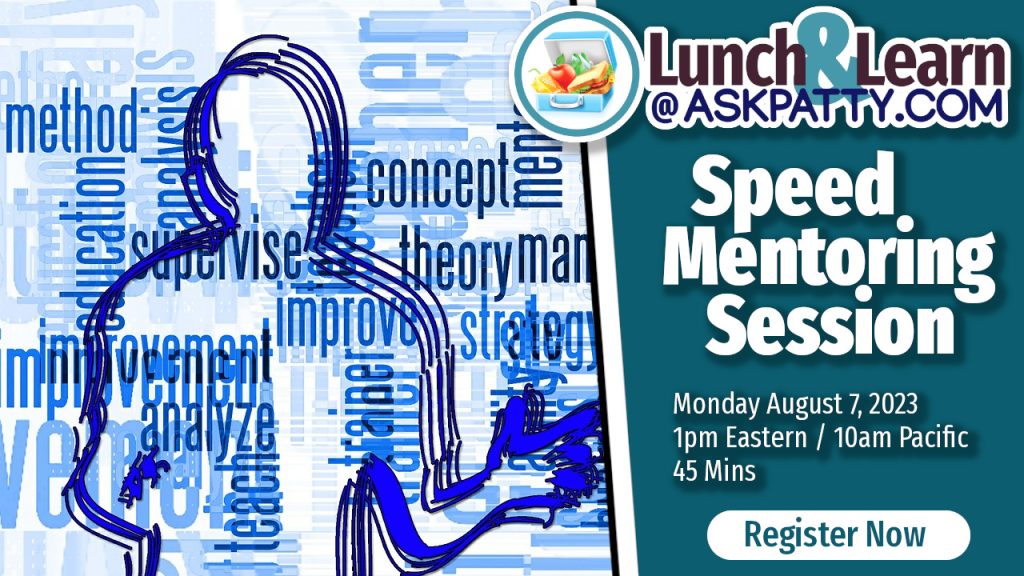 Rescheduled: Live Speed Mentoring Session
Mentoring is a mutually beneficial relationship between an experienced expert and a learner. Some of the many benefits of mentoring include increased knowledge, increased confidence, professional development opportunities, and the sense of belonging that comes from working closely with a trusted colleague. Join us for an accelerated, speed mentoring session and experience the benefits of mentoring in a fun, time-compressed virtual environment.
Monday, November 6
1pm Eastern / 10am Pacific
45 Mins
Registration Link: https://askpt.link/5e1
Previous Lunch & Learn Sessions
Session 12: Supporting Gender Identity and Expression
What are your pronouns? Depending upon several factors, this question may make you feel welcome and accepted, or it may make you uncomfortable. Modern social psychologists, sociologists, and anthropologists agree that gender is a social construct which is distinct from biological sex. In today's working environment, it is important to recognize and understand the motivations and psychology behind gender identity and expression, in order to make your business a more welcoming and inclusive environment for people of all genders.
Session 9: 7 Steps to Build a Powerful Customer Care Team (BDC)
Workers across all industry agree that working in customer care is one of the most taxing and challenging jobs one can have today. There are many reasons for this – the endless barrage of increasing customer expectations, negatively-enforced competition among the teams, physical exertion stemming from being unable to sit for long hours, mental exertion stemming from infrequent breaks … the list goes on. In this webinar, we will discuss some of the most important steps you can take to put together a customer care team that is supported, prepared, and highly effective – resulting in increased satisfaction from your customers and workers alike.
Session 8: Addressing Microaggressions
In our modern workplaces, workforces and management are (finally) beginning to engage in honest, real conversations about the realities of racism, classism, ableism, ageism, and other forms in inequity. One of the most common ways that prejudice (implicit or explicit) expresses itself is through microaggressions. These are actions or words that, however casual or innocent the intent, communicate hostile, derogatory, or negative slights toward a person or group. We will discuss some common examples of microaggressions, the unpleasant reality of living under a pervasive barrage of them, and ways to address them in your own workplace.
Session 7: Improve Client Retention in Sales and Service
In any industry, customer retention is the key to growing revenue: if you can increase your customer retention by just 5%, that can turn into a 25-95% increase in profits, according to Bain & Company Research. If you are looking to take your automotive business to the next level, the key is increasing retention, which both reduces marketing spend and increases profit per customer. This month's Lunch and Learn aims to give you the tools you'll need to improve customer retention in any automotive business.
Session 6: Key Steps to Create Consistent Levels of Traffic
Today's shift to more floor sales, leads, best practices, and traffic. We will be talking with the experts. You can ask questions and learn industry expert tips on the keys to drive more traffic to your dealership. We will have our guests David Kain who operates Kain Automotive Inc., an industry-leading provider with 20+ years of automotive internet sales, business development center and digital marketing training and consulting which he founded in 2003. Along with Becky Solis as a dealership professional, she has focused on business development in both sales and service for over 15 years, helping clients increase their revenue and achieve their goals.
Read the article:
Session 5: Cultural Awareness and Belonging
What does it mean to build a culture of belonging? In the post-COVID world, workers seemed to realize that they had value outside of their own productivity, and began to seek out employers who valued their workers for more than simply their effect on the bottom line. Today's workers are more focused than ever on where they belong – politically, socially, academically, and professionally. A sense of belonging topped the list of the 2021 Global Human Capital Trends. In this webinar, we will discuss the benefits and challenges of developing a culture of belonging in a polarized world.
Session 3: Focus on the Multi-generational Workforce
Session 1: The Meaning of 'DEI'
Session 4: How to Interview, Select, and Compensate Sales, BDC, and Management
Session 2: Unconscious and Implicit Bias