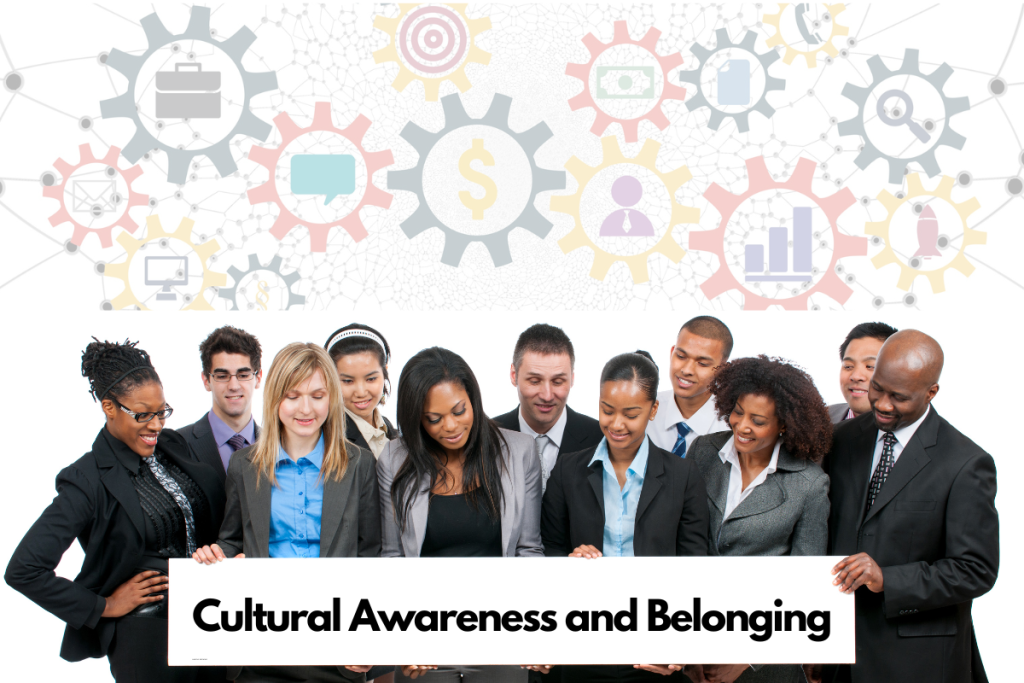 What is Cultural Awareness and Belonging and Why Does it Matter?
Cultural awareness and belonging is an important factor in the workplace. It is the ability to recognize and understand the different cultural backgrounds of employees, customers, and other stakeholders. It also involves understanding how these cultures affect their behavior, beliefs, values, and attitudes toward work.
Cultural awareness allows companies to create a sense of belonging among employees from diverse backgrounds. It helps promote respect for each other's differences while still maintaining a sense of unity within the organization. Additionally, it allows companies to better understand their customer base by being aware of cultural nuances that may impact their buying decisions.
The importance of cultural awareness and belonging in the workplace cannot be overstated as it helps foster an inclusive environment where everyone feels respected and valued regardless of their background or culture.
How to Build an Inclusive Workplace To Encourage Cultural Diversity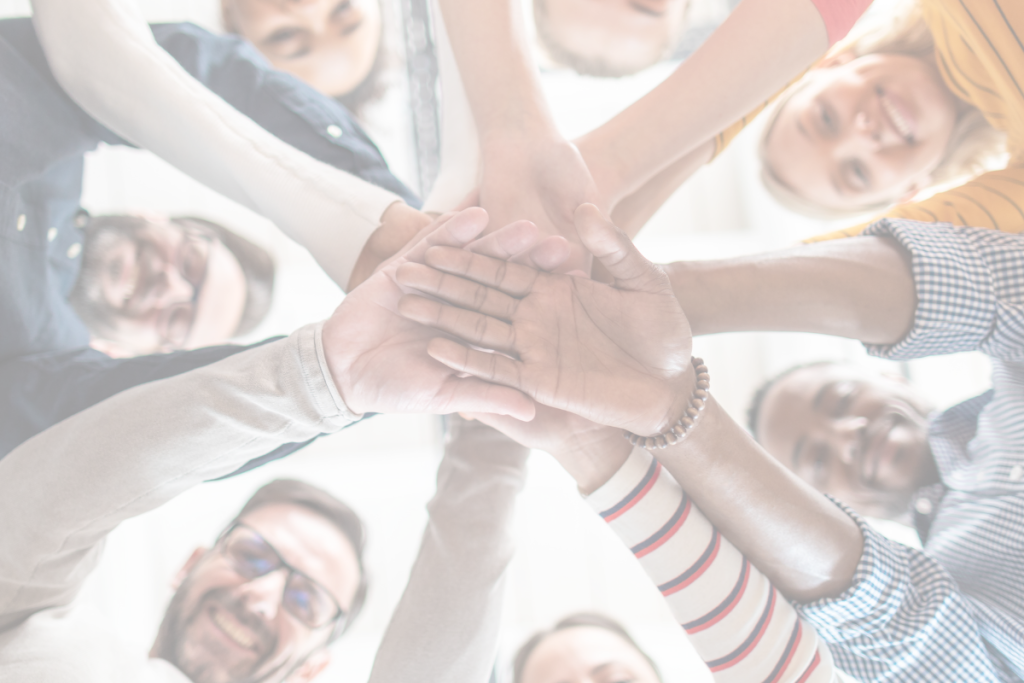 Creating a workplace that is inclusive and encourages cultural diversity can be a challenge. However, it is essential to build an environment where everyone feels welcome and respected. By fostering diversity and inclusion in the workplace, companies can create a culture of belonging that will help them attract top talent from all backgrounds. If your not sure were to start check out our certification program called upshift culture: https://askpatty.com/upshift-culture/
By cultivating a sense of belonging, employers can ensure that their employees feel comfortable expressing their unique perspectives and experiences. This will not only lead to increased creativity and productivity, but it will also help create an environment of trust and respect among colleagues. Additionally, building an inclusive workplace will help employers better understand their customers' needs as they come from different backgrounds.
The Role That Leaders Can Play In Promoting Cultural Awareness in the Workplace
Leaders play a vital role in promoting cultural awareness in the workplace. They have the power to set an example for their employees and create an environment where everyone feels respected and valued. Leaders can use their influence to ensure that corporate values and norms are followed and that everyone is treated with respect regardless of their background. By being a workplace culture champion, leaders can help create a more inclusive work environment where everyone feels comfortable expressing themselves without fear of judgment or discrimination. This will enable teams to collaborate more effectively and create better results for the organization as a whole.
Creating an Environment That Empowers Employees from Different Backgrounds
Creating an inclusive and diverse work environment is essential for any business. By valuing different backgrounds, companies can foster an environment that empowers employees from all walks of life. This can help them to feel included and appreciated in the workplace, which in turn leads to increased productivity and creativity.
Inclusion strategies for the workplace should be tailored to the specific needs of each company. Companies should focus on creating a culture of respect and understanding, as well as providing equal opportunities for everyone regardless of their background. Additionally, they should create policies that promote diversity and inclusion, such as flexible working hours or family-friendly policies. By doing so, they can create an environment that truly empowers employees from different backgrounds.
Join us as we talk about Cultural Awareness and Belonging during our free Lunch & Learn Live and Recorded Session on February 13th, 2023 1 pm Eastern / 10 am Pacific
We will be joining Dr. Martha Rader and Dr. Aubrey M. Franklin as our guest speakers. In this webinar, we will discuss the benefits and challenges of developing a culture of belonging in a polarized world. What does it mean to build a culture of belonging? In the post-COVID world, workers seemed to realize that they had value outside of their own productivity, and began to seek out employers who valued their workers for more than simply their effect on the bottom line. Today's workers are more focused than ever on where they belong – politically, socially, academically, and professionally. A sense of belonging topped the list of the 2021 Global Human Capital Trends.
Registration Link: https://askpt.link/xn5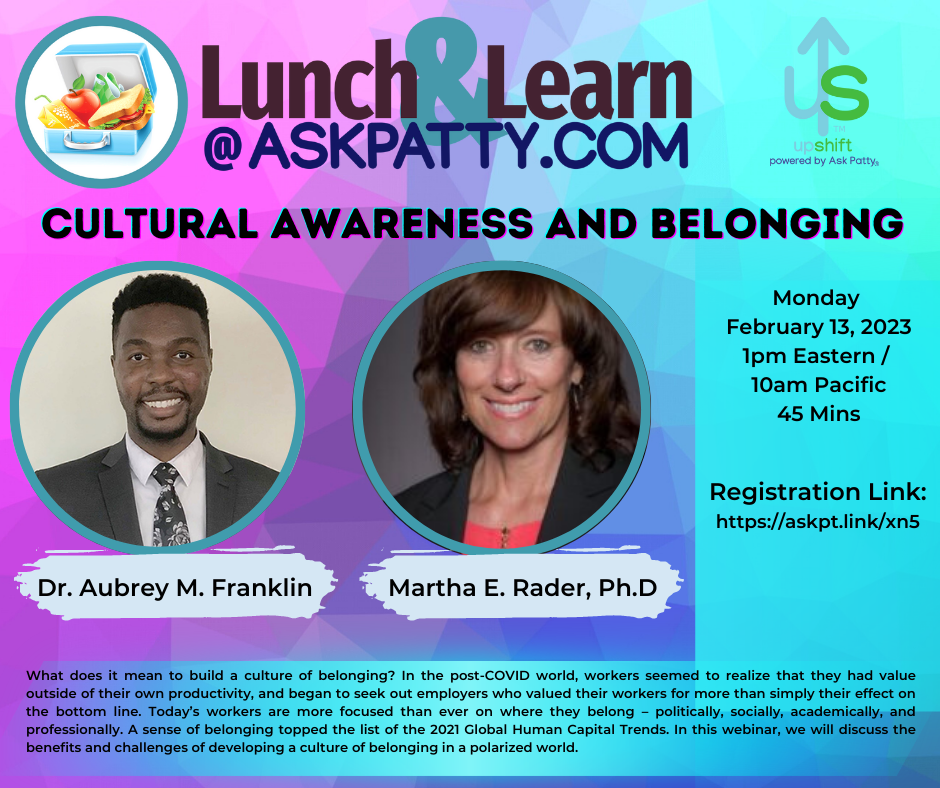 About the speakers
Dr. Aubrey M. Franklin
Licensed Clinical Psychologist, Graduate Psychology Program Director and Professor
Dr. Aubrey M. Franklin is a passionate and dedicated Licensed Clinical Psychologist, Graduate Psychology Program Director and Professor at Keiser University – Flagship Campus. He specializes in the diagnosis and treatment of stress and anxiety disorders, emotional, behavioral, and adjustment challenges. Dr. Franklin is proficient in the analysis of all types of stress and the appropriate coping strategies to enhance well-being, positive affect, and human performance. He regularly provides training and consulting through workshops, seminars and webinar presentations, scholarly writing and research on acute and chronic stress, acculturative stress burnout, post traumatic growth, perspective taking and benefit finding. Dr. Franklin is always eager to apply his experience and compassion with under-represented and underserved populations as they begin to address issues that will help them to improve their quality of life, re-establish connection, and attain a sense of fulfillment.
Martha E. Rader, Ph.D
CEO Rader Leadership / MVP Champion / UpShift Powered by Ask Patty Consultant

Dr. Martha E. Rader is a Ph.D. in Organizational Leadership, is the principal of Rader Leadership, and a professor.
As an independent leadership and teams' developer, coach, trainer, and culture consultant, Dr. Rader has over 25 years of experience as an executive, leader, and manager in the automotive and banking industries and has had the opportunity to study the effects of generational differences in organizations.

Dr. Rader specializes in developing and aligning culture (Mission, Values, and Priorities MVP ©), executives, leadership, management, and team coaching and development, and diversity, inclusion, and change management. She is a John C. Maxwell Independent Certified Coach, Trainer, and Speaker, and an Authorized Wiley-Lencioni Partner for DiSC Behavior Analysis and the Five Behaviors of a Cohesive Team.

She is certified in diversity, equity, and inclusion and has assisted in building positive, purposeful, productive, diverse culture in the automotive, banking, hospitality, non-profit, small business, and higher education industries. Rader was nominated for the Automotive News' 100 Leading Women in the North American Auto Industry in 2010, has served as a board member for non-profit organizations, national dealer councils, and is an active volunteer within her community.